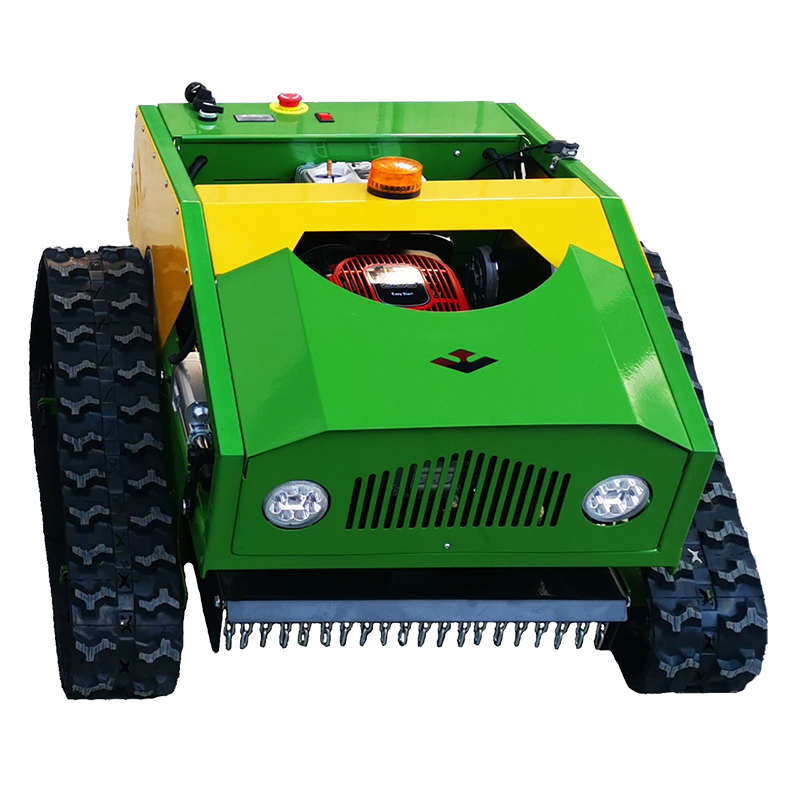 Remote Control Lawnmower For Sale
Remote control lawnmower is a newest mini slope lawn mower. We are the leading manufacturer of remote controlled lawn mower in China.
For this RC mower, we use circuit board instead of electronic speed controller. So it is more durable. It can work on various terrains such as slopes, dry fields and solar power stations. If you have a lawn ground on a slope, I recommend this mower with cheap price, but high quality.
This remote control lawnmower is also a hybrid power remote controlled lawn mower. Petrol engine provides power to the cutter system and drives the blades to rotate at high speed. At the same time, petrol engine provides power to alternator through belt. Alternator charges storage battery. Storage battery provides power to the circuit system and electric travel motors. Electric travel motors drive the machine to walk.
Its main product parameters as below.
Model: MAX550B.
Engine type: Brand Rato 5.5hp 223cc gasoline engine.
Starting system: electric start and remote start.
Voltage: 24 V.
Walking speed: 0-3 km/h.
Cutting system: floating blades.
Cutting width: 500 mm.
Max slope: 45 degree.
Machine weight: 140 kg.
Size: 88*93*66 cm.
If you want to learn more its information, please send product inquiry directly.
How to become our dealer
If you want to be our dealer in your country, you must have your own company. And you must be in the field of garden machinery or construction machinery. We can support you a lot. For example, we can use your trademark or logo on the machine. You can also choose any color for your machine. We can even customize an exclusive appearance for you. Of courese, we can meet your any requirements if this will help you to get more profit.
Please contact us through email / WhatsAPP / Wechat.