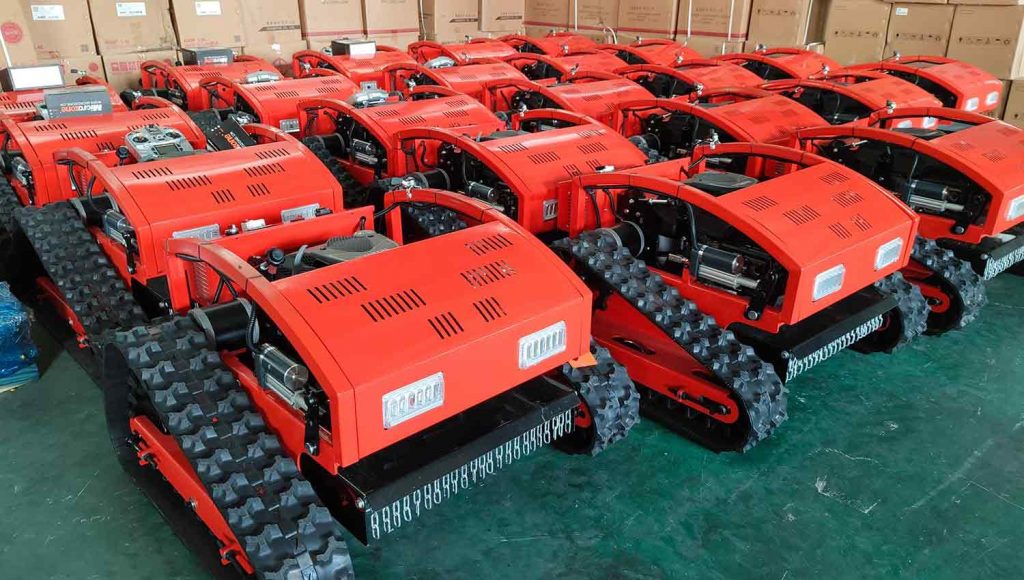 Remote control lawn mower is a radio-operated slope mowing machine. It is China's first-generation remote-controlled crawler lawn mower, designed specifically for extreme mowing work.
Engineer Chris Xue designed this remote control lawn mower. Chris Xue was previously engaged in the manufacture of crawler excavators. Later He found that remote control lawn mowers in European and American countries are very expensive, and there is no such slope mower in China. So he and his team designed this remote control lawn mower with 55 cm cutting width.
As he expect, this slope mower quickly become a hot-selling product and is loved by European and American countries. It makes remote control lawn mowers no longer expensive and affordable for ordinary families.
Compared with traditional riding lawn mowers, what are the advantages of remote control lawn mowers?
In the weeds of hillside, steep-incline, wetland, swamp, roadside, there are always some dangers, such as poisonous snakes. In these places, ordinary riding lawn mowers cannot enter or mowing operations. If humans go directly to manual mowing, it will be very dangerous and inefficient work. Remote control lawn mower solve these problems. It makes mowing operation more safer and efficient.
Remote control lawn mower equips with brand Yamaha gasoline engine, two 1.5 kw electric motors and 20A battery to provide strong power for mowing operation and climbing. Strong power and triangular rubber track make it climb up to 40 degrees.
Besides mowing operation, it is also a multi-functional remote control machine.If it equips snow blade, it can also clear snow. Remote controller can control snow blade to lift and lower.
Besides this slope mower, Chris Xue and his team plan to increase the mowing width to 70 cm, 80 cm, 110 cm. They also plan to design more types of remote control lawn mowers, such as radio-controlled wheeled RWD mower and 4WD mower.
Main parameters:
Mower Model: MAX750A
Overall Dimensions: 930*860*580 mm ( 36.6*33.9*22.8 inch )
Machine Weight: 130 kg
Horsepower: 7.5 hp
Engine Brand: Yamaha MA190
Fuel Type: gasoline
Displacement: 189 cc
Battery Capacity : 20A
Mower Blade: cross blade
Cutting Height: 20 – 150 mm ( 0.78 – 5.9 inch )
Cutting Width: 550 mm ( 21.7 inch )
Travel Speed: 4 km/h
Climb Ability: 40 degrees
Remote Range: 200 m
Optional Accessory: snow blade
Optional Other Engine: Kohler, Rato, Loncin, Zongshen
Remote Control Lawn Mower Operating Instructions And Precautions
*After receiving the machine, please charge it for 3-6 hours until it is fully charged.
Starting Processes:
Pull brake controller upward.
2. Push petrol throttle to 90 degree.
3. Pull starting rope to start engine.
4. Push petrol throttle to 45 degree to make engine idle speed state.
5. Turn on power switch.
6. Turn on remote controller.
Closing Processes:
Turn off petrol throttle.
2. Turn off brake controller.
3. Turn off power switch.
4. Turn off remote controller.
Remote Controller:
Remote controller has been set up and can be used directly, please do not adjust it.
Please use 4 AA batteries.
Maintenance:
Please use 92# petrol or above.
Replace engine oil for the first time after 10 working hours, next 40 working hours.
Check air filter regularly to remove dust or replace it.
Precautions:
When starting mower, staff should be at the right rear of it. Don't put foot into mower.
When mower is working, power switch must be turned on. If power switch is turned off, it will damage electronic components.
If working on uneven terrain, please do not lower blade to the lowest position to avoid hitting hard objects.
When turning on power switch of mower, display screen shows battery voltage and power. When battery power is lower than 50% or 11.8V, please charge it in time to protect battery.