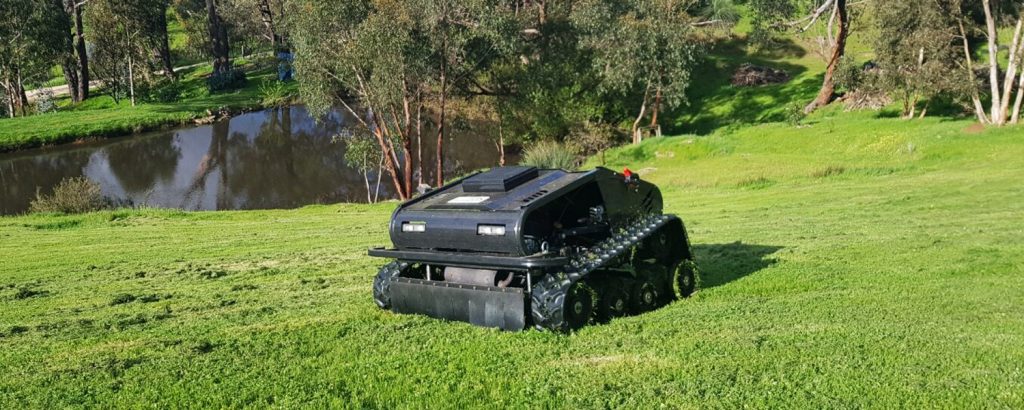 Remote control slope mowers for sale.
This is a hybrid robot radio controlled mulch slope mower. Because its appearance likes shark, we name it Black Shark 800.
Black Shark 800 is a high-end all terrain remote control slope mowers. It can smash all tall grass and small saplings on 50 degree slopes.
It is similar to Italy Raptor 800 mower. We especially install a fan on top of the engine to keep the engine cool after long hours of mowing work.
Parameters of Black Shark 800
Please see the following parameters to know Black Shark 800 all terrain slope mower.
Engine type: 23hp gasoline engine 764cc V-twin cylinder
Starting system: electric startup and remote startup
Walking speed: 0-8km/h
Cutting system: flying blades
Cutting width: 80 cm
Max slope: 50 degree
Machine weight: 330 kg
Size: 1300*1160*700 mm
Looking For Distributors Of Remote Control Slope Mowers
We are looking for distributors in Germany, Australia, Poland, Unit of States, Canada, England, France, Austria. If you are interested, please contact me via email [email protected]
If you become our dealers, we will provide the following support.
We guide end buyers in your area to buy directly from you.
We offer competitive prices for our dealers.
You can apply to be exclusive dealer in your area or even your country.
We can cooperate to develop new remote control machines and tracked machinery.
If you have own brand, we can do laser cut on mower with your logo.
If need, we can do exclusive appearance for you.
Many colors for your choice, including black, gray, yellow, green, orange, blue, red.
More supports are not limited to these……
If you would like to distribute high-end all terrain remote control slope mowers and cheap rc mowers with best price, please contact us.