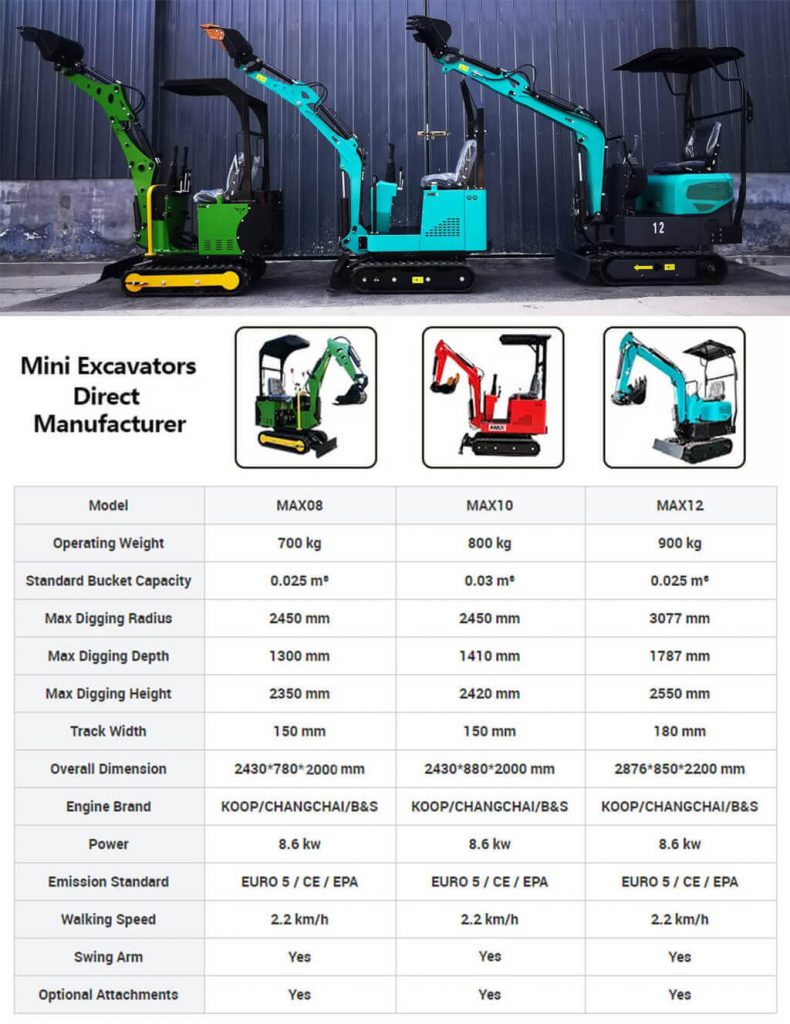 Mini excavator for sale.
We are China's first manufacturer to design and manufacture 08 model mini excavator. It is your best choice to choose us to be your partner and supplier.
The mini excavator goes by many names. People call it mini ex, small excavator, mini digger, mini hoe and compact excavator. German call it minibagger. French call it mini pelle and Poles call mini koparki. No matter what you call this machine, it is small enough to get any type of precise digging done. People use it for earth moving, material handling, stump removal, construction projects or landscaping. Because of these capabilities, it is popular for smaller projects in construction and landscaping.
Product Specifications:
Model: MAX08
Machine weight: 700 kg
Digging bucket capacity: 0.025 cbm/120 kg
Maximum digging force: 10 kn
Engine type: diesel fuel
Displacement: 499 cc
Emission standard: EURO V
Rated power: 8.6 kw/3600 r/min
Engine brand: KOOP
Diesel tank capacity: 5.5 L
Overall dimension: 2430 x 780 x 1390 mm
Total length of track on land: 1140 mm
Platform ground clearance: 80 mm
Platform back turning radius: 784 mm
Chassis width: 720 mm
Track width: 150 mm
Chassis ground clearance: 132 mm
Track height: 320 mm
Max. Digging depth: 1300 mm
Max. Digging height: 2350 mm
Max. Dumping height: 1600 mm
Max. Digging radius on ground: 2450 mm
Min. Rotation radius: 1100 mm
Max. Upgrade height of bulldozer blade: 120 mm
Max. Digging depth of bulldozer blade: 200 mm
Optional attachment: quick hitch, 200 mm narrow bucket, 50 mm bucket, 60 mm bucket, 70 mm bucket, 80 mm bucket, 60 mm screening bucket, ripper, rakes, breaker hammer, auger, grab, thumb clamp.
Special reminder:
Many Chinese manufacturers are imitating our 08 model mini excavator. In order to reduce costs, they use cheap raw materials and spare parts. Maybe our price is not the best, but our quality is better than theirs.