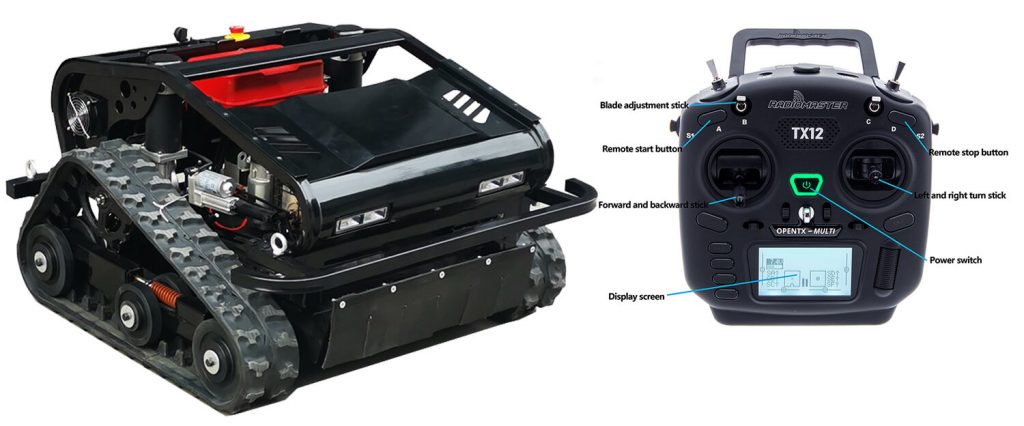 Remote Controlled Lawn Mower Black Shark 600 For Sale
Remote controlled lawn Mower Black Shark 600 is one of our exclusive mowers. We are the leading manufacturer of remote control lawn mower in China.
Black Shark 600 is a mini radio controlled lawn mower with high quality. It can work on various terrains such as slopes, dry fields and solar power stations. If the mowing area is less than 4000 square meters, we recommend Black Shark 600.
Different remote controlled lawn mowers from other factories in China, we choose high quality parts to manufacture Black Shark mowers. With durable quality, it can finish the mowing work excellently. Black Shark mowers are our artwork.
Black Shark 600 and Black Shark 800 are similar in appearance. The mainly difference are in remote control, engine, travel motors, alternator, blade width. Please contact us to get the suitable suggestions for you choice.
Black Shark 600 is also a hybrid power remote controlled lawn mower. Petrol engine provides power to the cutter system and drives the blades to rotate at high speed. At the same time, petrol engine provides power to alternator through belt. Alternator charges storage battery. Storage battery provides power to the circuit system and electric travel motors. Electric travel motors drive the machine to walk.
How to become our dealer
If you want to be our dealer in your country, you must have your own company. And you must be in the field of garden machinery or construction machinery. We can support you a lot. For example, we can use your trademark or logo on the machine. You can also choose any color for your machine. We can even customize an exclusive appearance for you. We can meet your any requirements if this will help you to get more profit.
Please contact us through email/WhatsAPP/Wechat.