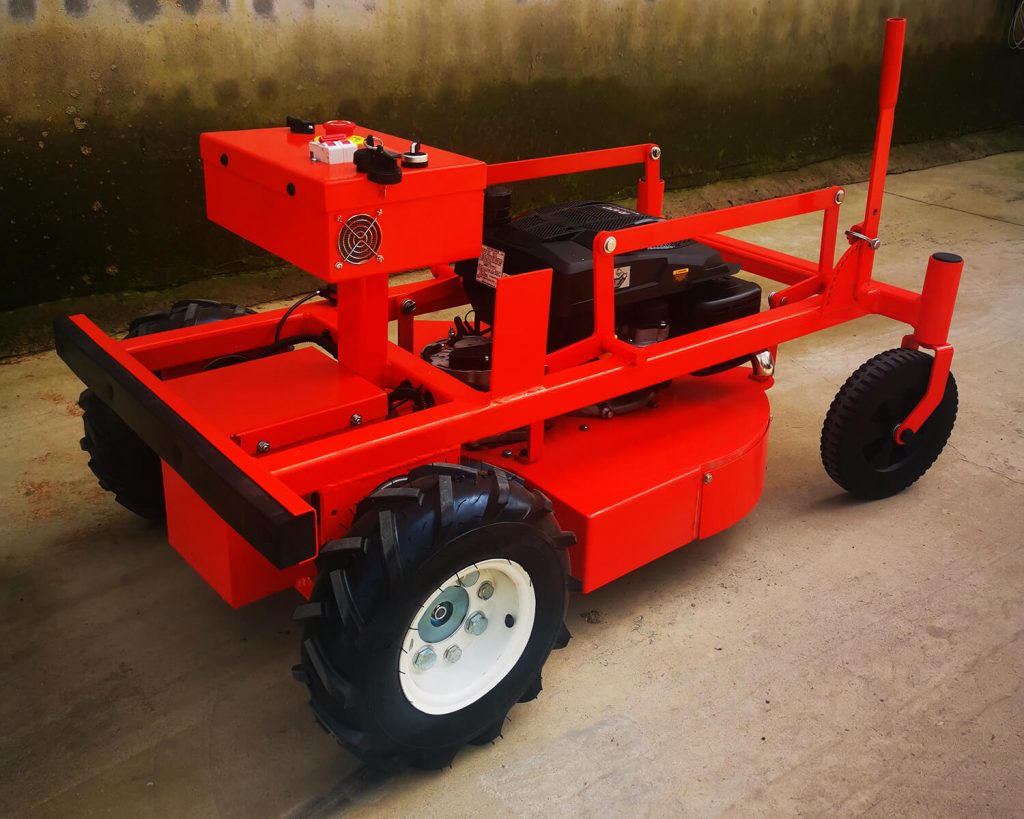 Radio controlled lawn mower is a remote control wheeled mowing machine. It has fast travel and mowing speed. This type of mower is suitable for fast mowing operations on flat terrain or gentle slopes. If mowing on hillside, steep-incline, embankment, wetland, swamp and roadside, remote control slope mower is your best choice.
Why use radio controlled lawn mower?
It can do dangerous mowing work on challenging terrain.
If user use traditional lawn mowers, mowing in high summer temperatures is not ideal for users' occupational health, safety and comfort. Radio controlled lawn mower eliminate exposure to these risks as well as vibration, noise, exhaust fumes, dust, pollen and insects. The user controls all device functions by remote control and avoid to direct burden as vibration, noise and pollution.
Our Advantages:
In Europe and America, there are many brands of radio controlled lawn mowers , such as Spider, Green Climber, RC mowers, Agria, Trackmow, Evatech and so on. All of their remote control mowers have excellent mowing ability, but these mowers are also very expensive. Many people cannot afford it. Most people prefer to spend less money to get a satisfactory remote control lawn mower. We solve it.
We are China's first and leading radio controlled lawn mower manufacturer and specialize in designing and manufacturing various types of remote control mowers. Our remote control mowing machines also have excellent mowing performance, and the price is only one-third or less of theirs. So our mowers are popular in Europe, America, Canada, Australia, Japan and Korea.
Main parameters of radio controlled lawn mower :
Mower Model: MAX550
Overall Dimensions: 1300*820*730 mm
Machine Weight: 100 kg
Horsepower: 7.5 hp
Engine Brand: Loncin / Rato / Yamaha
Fuel Type: gasoline
Displacement: 225 cc
Mower Blade: flying blade
Cutting Height: 25 – 120 mm
Cutting Width: 500 mm
Travel Speed: 4 km/h
Remote Range: 200 m
Remote Control Lawn Mower Operating Instructions And Precautions
*After receiving the machine, please charge it for 3-6 hours until it is fully charged.
Starting Processes:
Pull brake controller upward.
2. Push petrol throttle to 90 degree.
3. Pull starting rope to start engine.
4. Push petrol throttle to 45 degree to make engine idle speed state.
5. Turn on power switch.
6. Turn on remote controller.
Closing Processes:
Turn off petrol throttle.
2. Turn off brake controller.
3. Turn off power switch.
4. Turn off remote controller.
Remote Controller:
Remote controller has been set up and can be used directly, please do not adjust it.
Please use 4 AA batteries.
Maintenance:
Please use 92# petrol or above.
Replace engine oil for the first time after 10 working hours, next 40 working hours.
Check air filter regularly to remove dust or replace it.
Precautions:
When starting mower, staff should be at the right rear of it. Don't put foot into mower.
When mower is working, power switch must be turned on. If power switch is turned off, it will damage electronic components.
If working on uneven terrain, please do not lower blade to the lowest position to avoid hitting hard objects.
When turning on power switch of mower, display screen shows battery voltage and power. When battery power is lower than 50% or 11.8V, please charge it in time to protect battery.