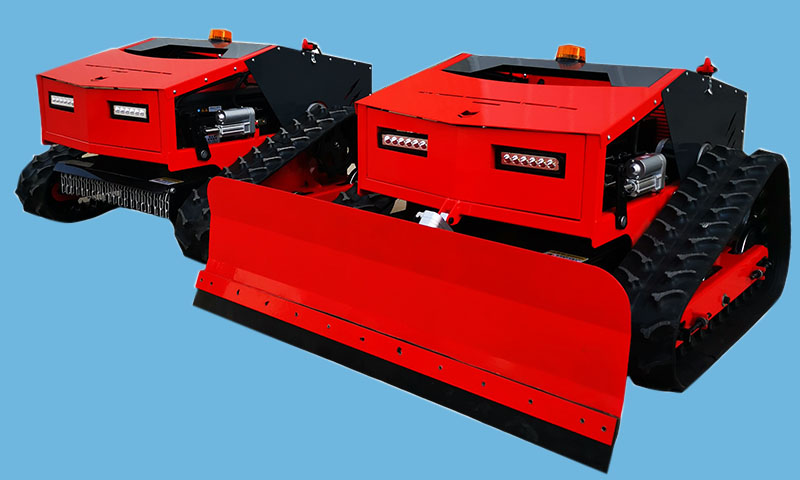 Remote control slope mower is a radio controlled all terrain mowing machine. It is designed specifically for extreme landscapes.
Ideal for:
Hillside, Steep-incline, Wetland, Swamp, Roadside, Orchard.
Remote control slope mower equips with gasoline engine, two electric walking motors and 1500 watt alternator to provide strong power for mowing work and climbing. The design of the triangular rubber track allows this mowing machine to climb to 40 degrees.
Besides the mowing function, if remote control slope mower equips snow blade, it can also do snow cleaning operations. Electric lift motor can control snow blade to lift and lower.
Main parameters of remote control slope mower:
Model: MAX550B
Recommended Slope: ≤30 degree
Mowing Width: 500mm
Mowing Height: 20-150mm
Travel Speed: 3km/h
Petrol Engine: Rato brand 5.5hp 223cc
Starting System: electric start + remote start
Machine Weight: 140kg
Size: 88x93x66cm
Optional Accessory: snow blade
Remote Control:
Remote control has been set up and can be used directly, please do not adjust it.
Please use 4 AA batteries.
Maintenance:
Please use 92# petrol or above.
Replace engine oil for the first time after 10 working hours, next 40 working hours.
Check air filter regularly to remove dust or replace it.
Precautions:
When starting mower, staff should be at the right rear of it. Don't put foot into mower.
When mower is working, please turn on power switch. If turn off the power switch, maybe it damage electronic components.
If working on uneven terrain, please do not lower blade to the lowest position to avoid hitting hard objects.
When turning on power switch of mower, display screen shows battery voltage and power. When battery power is lower than 50% or 11.8V, please charge it in time to protect battery.