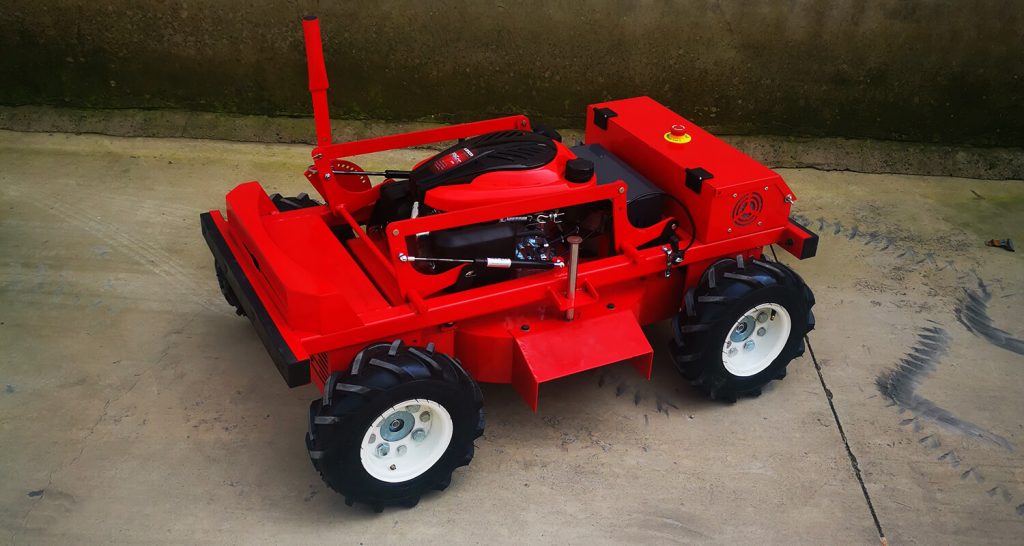 4WD Remote Control Mower – All Terrain Remote Control Lawn Mower.
Configuration and parameters
Model: MAX600W
Recommended Slope: ≤20 degree
Mowing Width: 600mm
Mowing Height: 20-150mm
Travel Speed: 6km/h
Petrol Engine: Rato brand 5.5hp 223cc
Starting System: electric start + remote start
Travel motor: 300watt x 4
Machine Weight: 136kg
Size: 121*103*56cm
Work Principle of Remote Control Mower
Gasoline engine powers cutter head to make it spin at high speed. Cutter head drives blade to rotate at a high speed to mow the grass.
Battery provides power for 4 walking motors, and 4 walking motors drive mower to travel.
While gasoline engine provides power for mowing the grass, it also provides power for generator, generator charges the battery.
Remote control controls mower to move forward, backward and turn.
Features and advantages
Excellent walking speed and mowing performance.
Compared with 4WD remote control mower in European and American countries, our price is much cheaper.
We install 4 large pneumatic tires, tire diameter 35 cm, tread width 13 cm.
The mower equips a generator that can continuously charge the battery to keep mowing work long hours.
We install anti-collision rubber strips on the front and back of the mower.
Why use remote control lawn mower?
User can keep a distance from 4WD remote control mower. So user can avoid machine vibration, exhaust gas, dust and possible dangers from the machine.
How to choose remote control lawn mower?
If you plan to mow grass on a flat or gentle slope, we recommend this 4WD remote control mower. Because 4WD lawn mower has a faster walking speed.
If you plan to mow grass on steep slopes or rough terrain, we recommend tracked mower. Because tracked mower has better climbing ability.