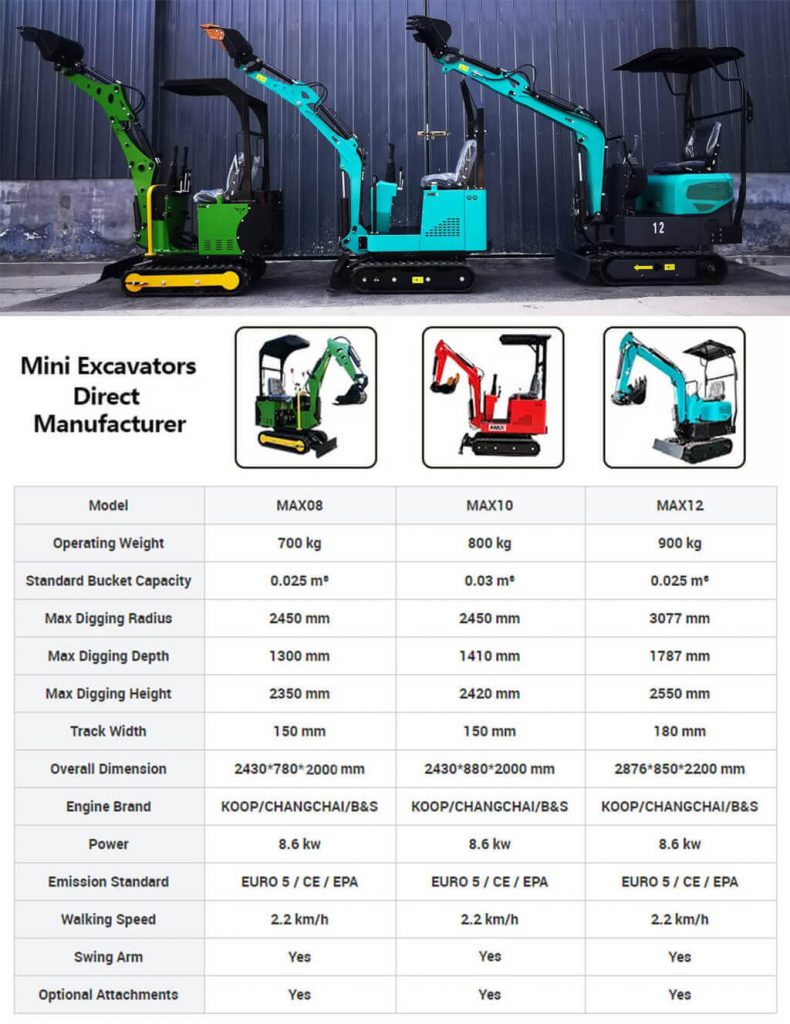 Mini digger for sale.
We are direct mini digger manufacturer and specialize in mini diggers with 3 models: max08, max10 and max12.
If you are a dealer and looking for these 3 mini diggers, it is your best choice to choose us.
Mini digger is a great tool to any landscapers armoury or for self build projects in the garden home or digging footings & ground work.
New, with a 10.5hp reliable diesel engine, 360 degree turn. This machine is electric start & comes complete with various buckets and other attachments.
Robust construction with reinforced boom arm for durability high quality hydraulic pipes cast iron pumps. High quality rubber tracks for extended life.
Having the ability to complete projects quickly with minimum of fuss & cost.
There are a multitude of tasks. Mini digger can complete with addition attachments such as breaker hammer, grab, auger, thumb clamp, ripping hooks etc.
You can do fencing, hole boring, breaking & many more tasks with these versatile machines.
Quick couple attachments are available to make interchanging attachments faster.
Product Specifications:
Model: MAX12
Machine weight: 900 kg
Standard bucket capacity: 0.025 cbm
Engine type: diesel fuel
Displacement: 499 cc
Emission standard: EURO V
Rated power: 7.6 kw/3600r/min
Engine brand: KOOP/CHANGCHAI/B&S(Gasoline)
Diesel tank capacity: 8 L
Overall dimension: 2876x850x2200 mm
Walking speed: 2.2 km/h
Max. Digging depth: 1787 mm
Max. Digging height: 2550 mm
Max. Dumping height: 1687 mm
Max. Digging radius: 3077 mm
Max. Upgrade height of bulldozer blade: 120 mm
Max. Digging depth of bulldozer blade: 200 mm
Track width: 180 mm
Total length of track on land: 900 mm
Optional attachment: quick hitch, 200 mm narrow bucket, 500 mm bucket, 600 mm bucket, 700 mm bucket. 800 mm bucket, 600 mm screening bucket, ripper, rakes, breaker hammer, auger, grab, thumb clamp etc.
Welcome you to consult mini digger.